Sugar Creek Vineyard and Meadery
Sugar Creek Vineyard and Meadery is a collaboration of ideas, dreams and plenty of creativity between brothers Kevin and Bryan Logue. While still working as a registered nurse Kevin continues to improve on viticultural and winery practices at Sugar Creek Vineyard and Meadery.
After taking an early retirement from education Bryan has been able to devote more time to the business. Bryan and his wife Kelly live part time and work on the vineyard at their nearby residence in Wykoff. As an amateur beekeeper in the earlier years Bryan had dabbled in making Mead with the honey produced. When the opportunity for an early retirement arose Bryan and Kevin were able to work together and develop the concept of both a winery and a meadery into one great tasting experience.
Currently we own and operate vineyards at two properties. In addition, we provide viticultural assistance at other vineyards. We strongly believe in using MN grown grapes for our wines. Our meads are made from raw, local honey collected from our apiary and other local beekeepers.
Guests will often see Kelly, Kevin's children Jack, Louise and George when they come to visit as well as Bryan and Kevin's mom, Birdie. Sugar Creek Vineyard and Meadery would not be possible without the help, encouragement, love and support of friends and family. We look forward to your next visit.
Bryan and Kevin Logue
Sugar Creek Vineyard and Meadery
Fountain, MN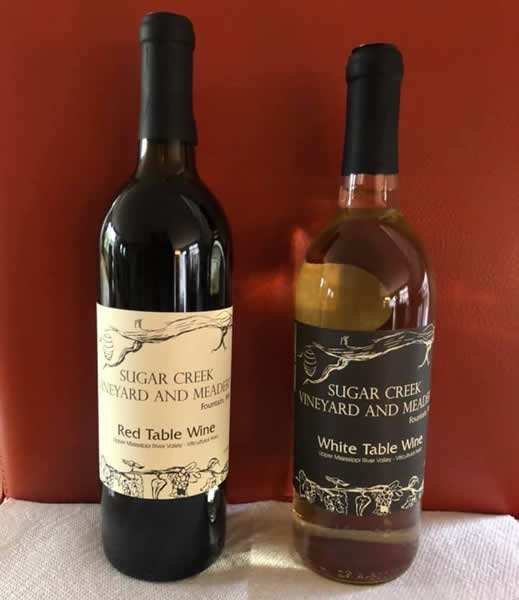 Sugar Creek Vineyard and Meadery
23661 County Road 8 Fountain, MN 55935